Calcium fluoride ball flap belt dryer
Product Description
Description of Belt Dryer
The raw material after washed should be distributed on the Conveyer Belt through suitable mechanism such as star distributor, swing conveyor, crusher or granulator, the conveyer passes through the channel including of one or several heating unit. Each heating unit is equipped with air heater and circle system. Each channel has one or several damp discharge systems. When the conveyer passes through it, hot air will pass through the raw material from up to down or from down to up. In this way the raw material can be dried uniformly.
Calcium fluoride is an inorganic compound that is colorless crystals or white powder. It is insoluble in water, slightly soluble in inorganic acid, and reacts with hot concentrated sulfuric acid to generate hydrofluoric acid. Calcium fluoride is generally prepared by the action of calcium carbonate and hydrofluoric acid or by repeatedly treating fluorite powder with concentrated hydrochloric acid or hydrofluoric acid. The natural calcium fluoride mineral is fluorite or fluorite, which is often gray, yellow, green, purple and other colors, sometimes colorless, transparent, vitreous, brittle, and has obvious fluorescence phenomenon. Very pure fluorspar is used to make specialty lenses. Fluorite is mainly used as a flux for metal smelting; when drinking water contains 1-1.5ppm calcium fluoride, it can prevent and treat dental diseases.

Calcium fluoride ball flap belt dryer, why is the flap belt dryer called flap?

Because the flap running in the box walks to the head or tail of the machine, it will turn over automatically, that is, it will run back and forth twice on the same floor, while the mesh belt dryer will only run once. If they are all four-layer dryers, the flap of the flap dryer will run and dry eight times in the box, while the mesh belt of the mesh belt dryer will only run and dry four times in the box. The drying efficiency of the dryer is greater than that of the mesh belt dryer. The flap dryer is a kind of drying equipment for batch and continuous production. It uses steel chain plates as conveyor belts to carry materials for continuous drying. The flip dryer is suitable for goose egg pellets, various metallurgical mineral powder pellets, oxide skins, sludge balls, briquette, coke powder balls, desulfurized gypsum, slag-returning balls, etc. produced by the briquetting machine. Wide, high efficiency, energy saving and so on.


Our company developed calcium fluoride ball flap belt dryer features:

1. The guide rail is optimized according to the characteristics of Wuke, which can ensure its linear reading and writing strength, and the running resistance of the sprocket is small. The flipping mechanism completed by the guide rail is a unique structure of our company, which can ensure that the grid plate can be tilted freely.

2. The sprocket adopts automatic tensioning device, the chain plate runs smoothly, and the good guide rail can effectively solve the phenomenon of chain drop, chain jam, deviation and so on.

3. The grid plate is made of heat-resistant steel and punched into a mesh shape, which has high strength, is not easy to deform, and has good air permeability. The two sides of the grid are connected to the chain rollers. The unique grid structure of our company can ensure that the rollers on both sides are coaxial and easy to disassemble and install.

4. The chain plate adopts electromagnetic speed regulation or frequency conversion speed regulation transmission according to the characteristics of the working conditions, and the running speed can be adjusted according to the needs, and the drying time can be controlled.

5. Equipped with fire protection devices, the kiln head, kiln middle and kiln tail are equipped with temperature measuring devices and digital display, which is convenient to grasp and control the temperature in the kiln. The air inlet of the flue is designed with a smoke gate. Immediately cut off the heat source to prevent fire.

6. According to the initial moisture of the material and the characteristics of the material, the upper air or interlayer air distribution is adopted, the hot air is evenly distributed, and the cracking and bursting of the briquette due to rapid heating are effectively prevented, thereby improving the quality of the briquette and reducing the damage.

7. Our company reasonably chooses negative pressure induced air or positive pressure blast according to the material moisture and hot air temperature, which is also the result of GRIFFIN's years of practice.

8. Equipment failure. The lower part of the equipment is equipped with special cleaning equipment, and the dust particles are exported, thereby reducing the operation intensity and equipment failure.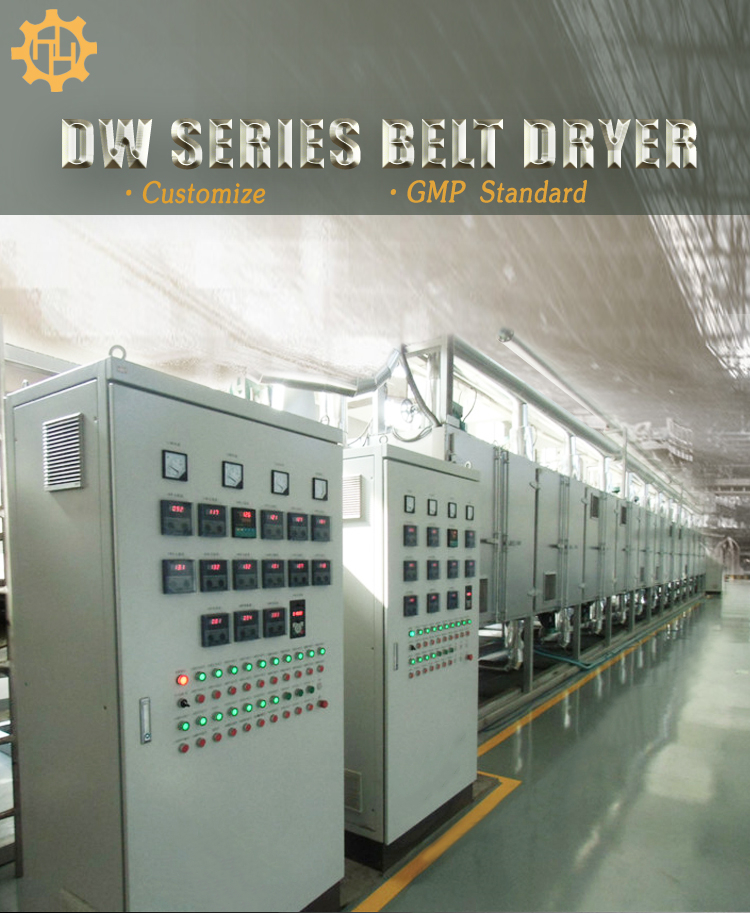 Application of Conveyor Belt Dryer
The Industrial continuous dryer is an industrial continuous drying equipment. It is widely used for chemical industry, foodstuff industry, pharmaceutical industry, construction materials industry, electronic industry and so on. Especially it is suitable for drying raw materials that are good in breathability and have the shape of pieces or strip of granule. It is also possible to dry the pasted raw materials such as filter cake after shaped through granulator or extruder.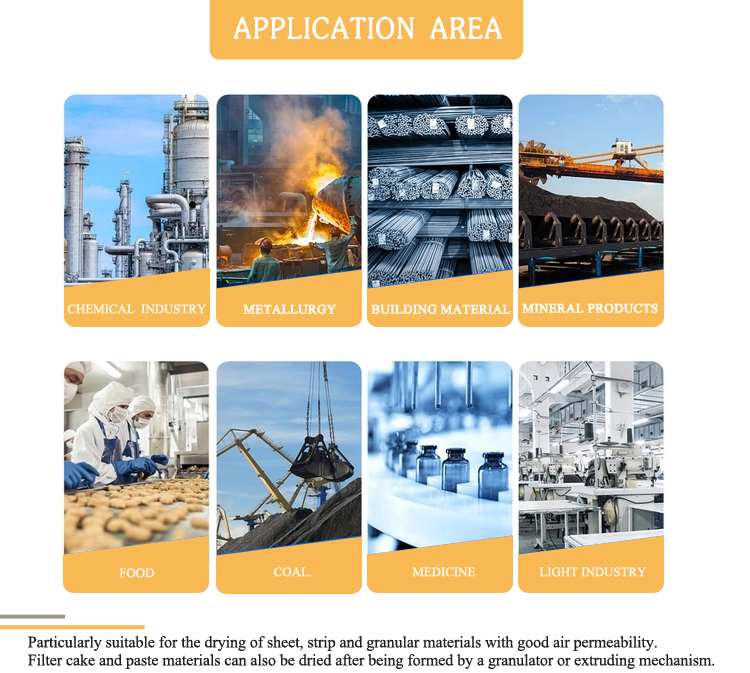 Features of Mesh Conveyor Belt Dryer
1, Air quantity, heating temperature, materials staying time and feeding speed can be adjusted to achieve the best drying effect.
2, The equipment configuration is flexible, mesh belt washing system and materials cooling system can be used.
3, Most air is recycled to realize saving energy
4, The machine is equipped with unique air dividing apparatus, it makes the hot air distribute uniform better and guarantee the quality of products is constant.
5, Heating source can be steam, conduction oil,, electricity, coal (oil), or hot air furnace.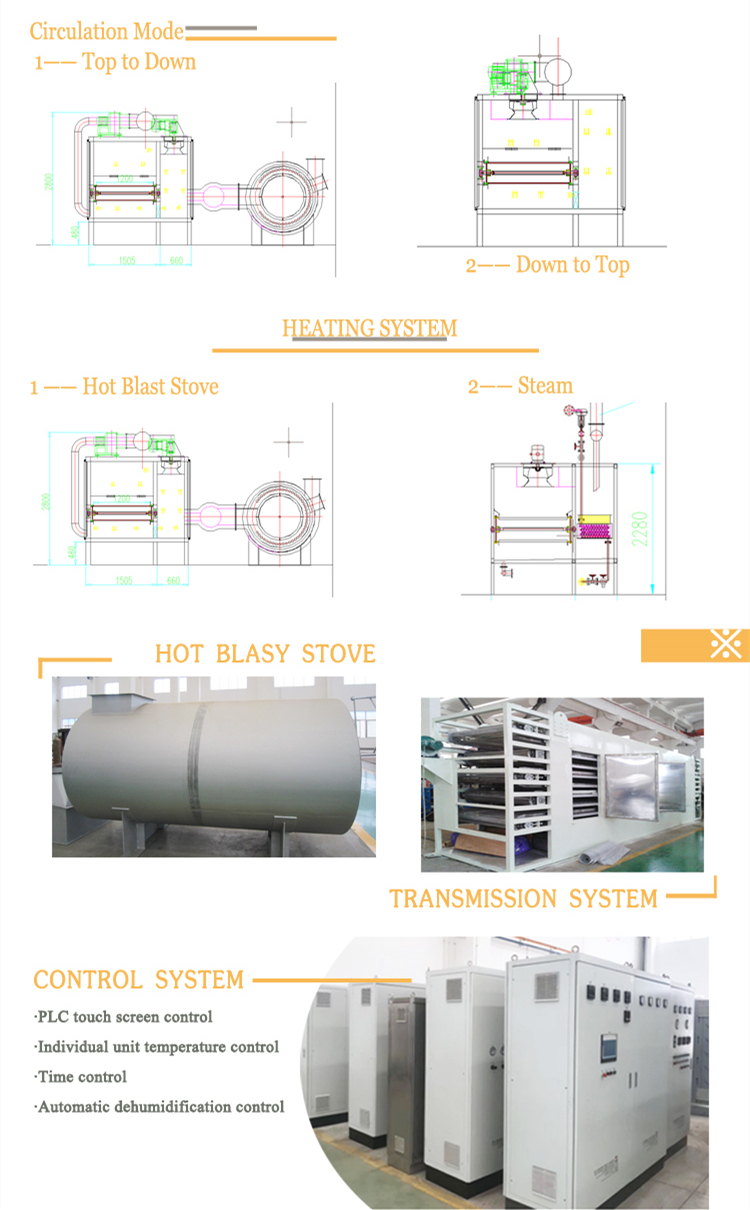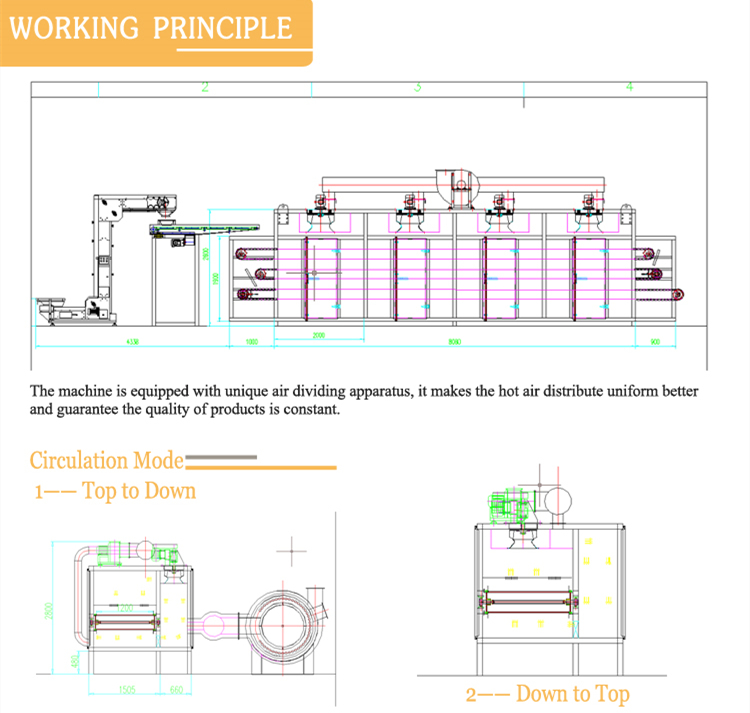 Belt Dryer Technical Parameters
| | | | | |
| --- | --- | --- | --- | --- |
| Model | DW-1.2-8A | DE-1.2-10A | DW-2.0-8A | DW-2.0-10A |
| Quantity of unit | 4 | 5 | 4 | 5 |
| Length of drying section | 8M | 10M | 8M | 10M |
| Thk of raw material layer | | | | |
| Operation temperature | | | | |
| Steam pressure | | | | |
| Steam consumption | 120-300kg/h | 150-375kg/h | 180-500kg/h | 225-600kg/h |
| Drying time | 0.2-1.2h | 0.25-1.5h | 0.2-1.2h | 0.25-1.5h |
| Drying strength | | | | |
| Power equipped | 11.4kw | 13.6kw | 12.5kw | 14.7kw |
| | | | | |
| --- | --- | --- | --- | --- |
| Model | DW3-1.2-8B | DW3-1.2-10B | DW3-2.0-8B | DW3-2.0-10B |
| Quantity of unit | 8 | 10 | 8 | 10 |
| Length of drying section | 24M | 30M | 24M | 30M |
| Thk of raw material layer | | | | |
| Operation temperature | | | | |
| Steam pressure | | | | |
| Steam consumption | 240-550kg/h | 300-750kg/h | 350-1000kg/h | 400-1200kg/h |
| Drying time | 0.2-1.2h | 0.25-1.5h | 0.2-1.2h | 0.25-1.5h |
| Drying strength | | | | |
| Power equipped | 21.7kw | 26.1kw | 29.2kw | 35.2kw |
Griffin Technology Manufacturing Co., Ltd.
Griffin technology manufacturing Co,. Ltd, a factory with more than ten years experience of professional and technical industrial service. locates in Changzhou city of Jiangsu. Our company has 2 large modern construction machinery manufacturing plant, equipped with whole line of sheet metal bending, laser cutting, automatic polishing, automatic welding, occupies an area of 500,000 square meters. Also we have our own R&D team, which has a number of talents and individual test lab. We are specializing in researching and developing drying machine, such as spray dryer, mesh belt dryer, fluid bed dryer, flash dryer, air stream dryer, vacuum dryer, plate dryer and so on. As auxiliary machines of drying machine, we also supply mixer, granulator, grinder and screener, roller compactor, air flow mixing system and air flow conveyor. With rich experience, we keep leading in design and manufacturing Chinese herbal extract spray dryer, flavouring spray dryer, hydrolyzed protein spray dryer, desiccated coconut drying machine, coconut meat mesh belt dryer, pharmaceutical spray dryer, vegetable and fruit dehydrator (mesh belt dryer), bread crumb fluid bed dryer, enzyme spray dryer, chicken powder production line, seaweeds drying processing line, gelatin production, WDG production line and so on. Based on keeping stable quality of drying, mixing, granulating, crushing and sieving machines, we actively research and develop new product, like roller compactor, airflow conveying and mixing system, vacuum belt dryer, try to supply turnkey projects to our customers.




Company Name: Griffin Technology Manufacturing Co., Ltd.
Representative: wanxingwei
Product/Service: Spray Dryer , Fluid Bed , Belt Dryer , Vacuum Dryer , Drying Equipment , Dryer
Capital (Million US $): 1170,000RMB
Year Established: 2002
Total Annual Sales Volume (Million US $): US$10 Million - US$50 Million
Export Percentage: 81% - 90%
Total Annual Purchase Volume (Million US $): US$5 Million - US$10 Million
No. of Production Lines: Above 20
No. of R&D Staff: 21 -30 People
No. of QC Staff: 51 -60 People
OEM Services Provided: yes
Factory Size (Sq.meters): 5,000-10,000 square meters
Factory Location: 198 Yunhe Road,Xinbei District,Changzhou,China
Contact Person: Mr. Frank
Tel: 86-17605290094